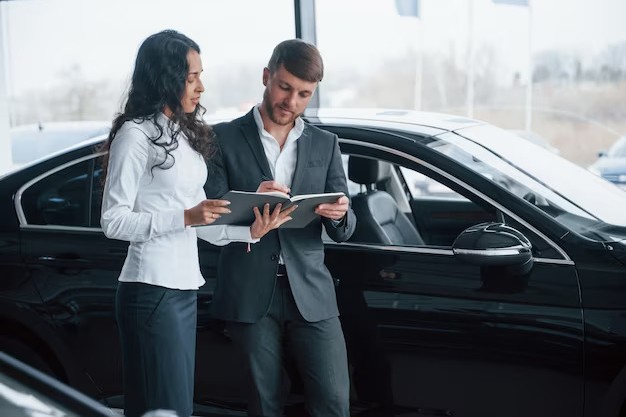 September, 2023
Listen to this Article
Mumbai, often referred to as the "City of Dreams," is not only a hub of business and entertainment but also a thriving hub for the automotive industry. The city's bustling streets are lined with showrooms and dealerships offering a wide array of automobiles, from compact cars to luxury vehicles. If you're in the market for a new or used vehicle, Mumbai is the place to be. In this comprehensive guide, we will explore the diverse landscape of automobile dealers in Mumbai, providing you with valuable insights and tips to make your car-buying experience a breeze.
The Mumbai Automobile Scene
Mumbai's automobile market is as diverse as the city itself. Whether you're seeking a practical commuter car or a high-end luxury vehicle, you're sure to find a dealership that caters to your needs. From the iconic dealerships in South Mumbai to the sprawling complexes in the suburbs, there's no shortage of options for prospective car buyers.
Popular Automobile Brands in Mumbai
Mumbai's automobile dealerships represent a wide range of brands, both domestic and international. Some of the most popular brands in the city include Maruti Suzuki, Hyundai, Tata Motors, Mahindra & Mahindra, Honda, Toyota, Volkswagen, BMW, Mercedes-Benz, and Audi, among others. These dealerships offer an extensive selection of vehicles to suit every budget and preference.
Buying New vs. Used Cars in Mumbai from authorized dealers
When it comes to purchasing a vehicle in Mumbai, one crucial choice to consider is whether to opt for a brand-new car or a used one from authorized dealers. New cars come with all the latest features and warranties, but used cars from reputable dealers can also offer substantial cost savings. It's essential to carefully assess your budget and specific requirements before making your decision. Luckily, Mumbai has a robust market for both new and used cars, with numerous certified pre-owned dealerships providing quality, thoroughly inspected vehicles.

By choosing to buy a used car from authorized dealers, you can benefit from the assurance of quality and reliability. These dealerships often conduct thorough inspections and refurbishments, ensuring that the used cars they offer meet certain standards. Moreover, they may provide extended warranties or service packages, giving you added protection and peace of mind.

So, before making your decision, carefully evaluate your budget and requirements, and consider the option of purchasing a used car from authorized dealerships in Mumbai. This way, you can enjoy the best of both worlds – cost savings and confidence in the quality of your vehicle.
Tips for Choosing the Right Dealership
Selecting the right dealership is crucial to a successful car-buying experience. Consider factors such as location, reputation, customer reviews, and after-sales services when making your decision. Mumbai has a mix of authorized dealerships and independent dealers, so it's essential to do your research and visit multiple options before settling on one.
Financing Your Dream Car
Financing your automobile purchase is another significant aspect of the buying process. Most dealerships in Mumbai offer financing options through tie-ups with banks and financial institutions. Compare interest rates, loan terms, and down payment requirements to secure the best deal for your budget.
After-Sales Services and Maintenance
Maintaining your vehicle is just as crucial as the initial purchase. In Mumbai, the automotive industry is witnessing a revolutionary shift with the introduction of state-of-the-art workshops that are redefining the way we care for our cars. Choosing a dealership that offers these cutting-edge facilities can make all the difference in your ownership experience.

Imagine a workshop where technology meets expertise, where your car's maintenance is not just a routine but a meticulously planned experience. These new-age service centers are emerging as a concept designed to provide customers with unparalleled service excellence.

In Mumbai, these innovative service centers are becoming the go-to choice for vehicle maintenance and repair, ensuring that your car remains in top-notch condition throughout its lifespan. So, when you're considering where to entrust your vehicle for after-sales service, think beyond the conventional and opt for the state-of-the-art workshop experience. Your car deserves nothing less, and you deserve the best service possible. Make the choice today for a superior and hassle-free ownership experience.
Exploring the Future of Automobiles in Mumbai
The automobile industry is rapidly evolving, with electric and hybrid vehicles gaining popularity. Mumbai is not far behind in embracing these trends, with several dealerships offering electric and eco-friendly vehicles. Keep an eye on the future of automobiles in Mumbai, as new technologies and eco-conscious options continue to emerge.
In Conclusion
In the vibrant metropolis of Mumbai, finding the perfect automobile dealership is an adventure in itself. From traditional to modern, budget-friendly to luxury, the city offers a diverse array of options to suit every taste and preference. Remember to research thoroughly, test-drive multiple vehicles, and negotiate the best deal to make your dream car a reality. With the right guidance and knowledge, navigating the world of automobile dealers in Mumbai can be a smooth and rewarding experience. Happy car shopping!
Also Read: The Ultimate Buyer's Guide for AutomobilesThe Ultimate Buyer's Guide for Automobiles: Making an Informed Choice
Back to All: Latest News Navnit group